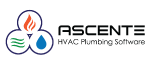 Field Service Management
Ascente software was created specifically for Service Management contractors including Plumbing, HVAC, Food Service and Refrigeration. It provides an integrated suite of applications that manages virtually every aspect of your business from dispatching to payroll.

Metal Center
MetalCentric is designed to meet the specific demands of the Metal, Steel, and Pipe Service Center industries. It provides a high-performance, easy-to-use and affordable solution for improving customer service, order processing, inventory management and much more.

Moving and Storage
VanS consists of a suite of fully-integrated applications designed to assist the Moving and Storage company in managing all areas of their business. From monitoring sales leads, to post move follow-up, VanS is the premiere software for the moving industry.